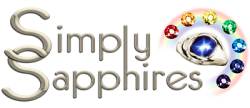 As you look through these pages, you'll notice all of our jewelry are one of a kind originals. All of our gemstones are natural. None are man-made, lab-grown-, created or synthetics.
Want to learn more about gems?, Just Click the links below:
Clarity Grading of Colored Gemstones
Want to learn more about gemstones, some great resources can be found on the AGTA Website
Click Here to learn more American Gem Trade Association (or copy this link into your browser https://www.agta.org/education/gemstones
We're very selective on which labs we use to perform analysis of our stones. No one that sells gems or jewelry should be certifying or appraising their own material, it's considered an industry bad practice. If you find a vendor that does, insist on an independent 3rd party certification prior to purchase.
There are so many fly by night labs that exist either only on paper, or in a corner of a desk that produce pretty looking certificates with no real value. Generally they don't have the equipment or expertise to produce a valid certification. If you buy ANY certified stone, make sure the organization doing the certification is reputable. In my opinion among the best US/Worldwide are:
USA
American Gem Trade Association – (AGTA) (The lab is closed but it's certifications were some of the best) https://agta.org/
American Gem Lab-(AGL) http://aglgemlab.com/
European Gem Lab-(EGL) https://www.eglusa.com/
Gemological Institute of America -(GIA) https://www.gia.edu/gem-lab
Stone Group Labs-(SGL) http://stonegrouplabs.com/wp/
Worldwide
AnchorCert Gem Lab (ACGL) https://anchorcertgemlab.com/about-us/anchorcert-gemlab
Asian Institute of Gemological Sciences – (AIGS) https://www.aigsthailand.com/Gem-Lab-EN
Canadian Gem Lab (CGL-GRS) CGLGRS https://www.cglgrs.com/
Ceylon Gem Lab-(CGL) http://www.ceylongemlaboratory.com/index.php
The Gemological laboratory of Cisgem- (CISGEM) – https://www.cisgem.com/
European Gem Lab-EGL http://www.egllaboratories.org/
Gem and Jewelry Institute of Thailand – (GJIT) https://www.git.or.th/index_en.html#
Gemmological Association of Australia (GAA) http://www.gem.org.au/about_gaa/gem_studies_laboratory_gsl/
Global Gem Testing Laboratory-Sri Lanka-(GGTL) http://www.ggtlsl.com/
Gemmological Institute of India – (GII) https://giionline.com/
Gübelin Gem Lab – (GGL) http://www.gubelin.com/en/gemmology/gemlab
IGE – Instituto Gemológico Español – https://ige.org/ige/
Swiss Gemmological Institute (SSEF) – https://www.ssef.ch/
#Gemstones #GemLabs #AGTA #GIA #Certification #Gemological #Gemologist #Jewelry #EGL #SSEF #Gübelin