A Few Independent Reviews of Simply Sapphires
We at Simply Sapphires firmly believe that the best form of reviews of our business is from our clients. They should always be complete and truly independent from the company being reviewed.
Just like a certification or appraisal of a gemstone should never be done by a company with a vested interest in the sale of the stone, an appraisal of a company should always be kept independent of the company itself.
Here are a few independent client reviews of our company that we think might help you (Click on image or text to see the reviews).

BBB Reviews
If a business has been accredited by the BBB, it means BBB has determined that the business meets accreditation standards which include a commitment to make a good faith effort to resolve any consumer complaints.
BBB Code of Business Practices represents standards for business accreditation by BBB. Businesses based in the United States and Canada that meet these standards and complete all application procedures will be accredited by BBB. The Code is built on the BBB Standards for Trust, eight principles that summarize important elements of creating and maintaining trust in business.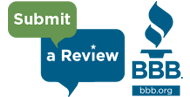 Should you have any questions or concerns, please call us at (845) 297-9547 or (845) 297-2254 or toll free FAX 1-877-711-GEMS or send email to info@simplysapphires.com, or just write to:
Simply Sapphires
P.O. Box 1281
Wappingers Falls, NY 12590