Yellow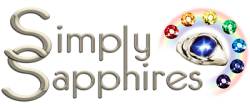 As you look through these pages of sapphires you'll notice that most all of our Blue, White Yellow and Fancy Sapphires originate from Sri Lanka, while the majority of our Star Sapphires originate from Burma. Just like a Parma Prosciutto from Italy, or a Stilton bleu cheese from Great Britain, certain areas seem to produce a more consistent better product based on their geography.
Want to learn more about sapphires?, Just Click the links below:
Clarity Grading of Colored Gemstones
Want to learn more about white sapphire, some great resources can be found on the AGTA Website
Click Here to learn more American Gem Trade Association (or copy this link into your browser https://www.agta.org/education/gemstones/sapphire-blue/)
Or if You really want to dig deep into every nuance of Sapphire and Ruby, some great reading can be found in the bible of Sapphire and Ruby
Ruby & Sapphire by Richard Hughes-Some of which you can read online by clicking here
YELLOW GEMSTONES LORE
Yellow gemstones are projective, ruled by the planet Mercury. In India, it is the color of the 3rd energy chakra.
The color yellow stands for intelligence and is ruled by the sun and air elements. Yellow stones can be used to increase understanding and increase intelligence. They are used in magical or mystical meditations to increase visualization powers and astral-projective powers.
Mystically inclined speakers and spellbinders use yellow stones mounted in gold to bind their audiences minds to their words and projected allusions.
Yellow stones have the power of movement outward, the easing of the exchange of ideas and thoughts between people. The wearing of yellow stones is thought to increase telepathic and astral-travel abilities. Many people believe that wearing yellow gems increases their intuitive powers and, in this way, are also protective.
Some yellow gemstones are yellow sapphire (thought to be the most powerful), citrine, yellow diamond, yellow garnet, yellow tourmaline, amber and tigereye.
#Gemstones #YellowSapphire #AGTA #SimplySapphires #ColoredGemstones #OrangeSapphire #Diamond Alternative #Jewelry #Gems #Citrine #Tourmaline